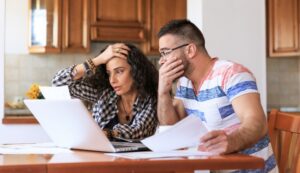 We all hate goodbyes–well, that is unless it is saying goodbye to a problem. But what if saying goodbye to a problem means saying goodbye to a system you've relied on for years?
To be blunt, it may be time to let go of your air conditioner. Saying goodbye to this system and replacing it with a newer one can be a great way to ditch some annoying comfort issues in your home. If you aren't sure whether or not your AC can make it through another summer, let us provide some indicators that will clarify things.
5 Signs You Need a New Air Conditioner
Here are some indicators that you need to say goodbye to your old AC and hello to an updated system.
Age: Your system is not meant to last forever. A well-maintained air conditioner is likely to last between 10 and 15 years in lifespan. If yours is within or past this age range, it is time to prep for an upgrade. Even a system that is still running is likely far less efficient than a newer model will be.
Efficiency: How much does it cost to run your air conditioner? If the cost of keeping cool is getting to be far too expensive, it means that your AC is losing its efficiency. This is a sign your system is on its way out and needs to be replaced with one that offers better SEER ratings.
Repair price: How expensive was your last repair service? A couple of hundred dollars may not be too much trouble. However, if your system requires repairs that are almost as expensive as a new system, it is better to opt for the new system.
Repair frequency: Maybe the repairs aren't necessarily that expensive but they have gotten too frequent. Needing yearly repairs is just as bad of a sign for your system as an expensive repair bill.
Refrigerant: Do you know what type of refrigerant your AC uses? If your system uses R-22 or even R-410A, then it is best to prep for a replacement in the near future as these types of refrigerants have been or are being phased out.
Upgrade Easily With Our Help
If you have a faulty air conditioner that you just can't rely on anymore we have news: this is probably the last summer your current system will see. But that means replacing it with a new system that will improve your comfort and home efficiency!
Come to our team for help with selecting the best system to replace your air conditioning in Ashland, KY. We can pair you with the best new system for your home's needs and get it set up properly in short order. We won't ever leave your home without making sure your new system is everything you need it to be. Get in contact with us for what you need.
We are proud to be your HVAC experts in Flatwoods, KY. Contact the team at Air Supreme Heating and Air Conditioning to schedule an appointment.