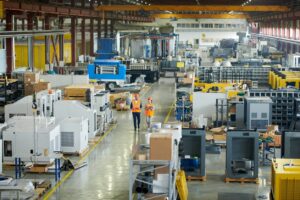 You can't leave expensive and extensive commercial projects to amateurs. These jobs require critical attention to detail, optimal installation efficiency, and installation contractors who put your business first.
Commercial heating installation projects have so many variables and working elements to them. These are all the reasons that you need professional contractors for the job.
Peak Efficiency
There's no clear linear path to the finish line with a commercial heating installation. Especially in commercial spaces, issues pop up that may try to interfere with a timely installation.
The difference between amateur and professional installers is that we prepare for the unexpected to the best of our abilities. When issues pop up, there's a system to find and apply a solution. What's more, we have insurance to keep everyone protected if something goes wrong.
Applying Cutting-Edge Technology
Professionals stay on top of current tech that helps us with every aspect of the installation process. If there's a way to save time and save you money through a smart, faster application–without compromising on installation quality–we'll apply it to the job.
Industry-Certified Technicians
Every technician that works on your commercial heating project is certified and knowledgeable. This helps provide the best possible turnaround time and ensures every part of the installation process goes as smoothly as possible. It also ensures that the work we do is legal!
Professionals Keep Your Business in Mind
It's entirely impossible to guarantee there will be no interference in your day-to-day business, your customer experience, and employee satisfaction. HVAC installation has its rough edges, but there are still ways that professional contractors keep your business in mind:
Timely Installation: Most commercial HVAC installations take anywhere from a single day up to a full week. It all depends on the number of units being installed, whether or not ductwork needs to be added, and plenty of other variable factors. With every obstacle, technicians work to get your business back on track as fast as possible.
Minimal Interruptions: While no contractor can guarantee zero interruptions to business and customer experience, they will work to create as few intrusions as possible. Your business can still operate during commercial HVAC installation, even if there are a few bumps and bruises along the way.
Safety: During the installation process, precautions will be taken to ensure your customers and employees are safe from start to finish. Professional contractors take safety seriously and don't compromise it for anything.
Communication: We'll make sure you understand what's happening at every single step of the installation process by providing status updates and real-time information on the progress of the job.
Assurance: Your installation will be completed with critical attention to detail and superior quality control in place. Professionals don't stand for anything less.
Don't Leave it to the Amateurs
Small and inexperienced companies will promise the world–professionals with decades of industry experience tell it like it is. You deserve transparent contractors that prioritize your business.
Allow us to handle your commercial heating installation project and offer the highest quality of workaround. We treat your business like we treat our own.
Contact Air Supreme Heating and Air Conditioning to handle all of your commercial projects. We're Your HVAC experts in Flatwoods, KY