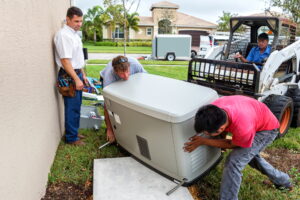 We're tied to a power grid, and all of our belongings run on electricity (give or take). From entertainment to at-home medical gear, we need to stay plugged in to carry out our way of life. That's why storms we get here in Ashland can be unsettling or scary when it knocks the power out for days (or weeks).
So why else would you want a whole-house generator in Ashland? We wanted to outline some of the main benefits of whole-house generators and the way they melt away your stress. Let's get into it.
Your Home Security Equipment Doesn't Go Offline
Nothing is quite as unsettling as all the lights going out and, with them, your home security cameras and defenses. As long as your equipment is hardwired in, you'll see it back up and running in no time once the generator kicks on. With the lights on and your cameras active, criminals will see it as too risky.
Fewer Chances of Bumps in the Night
When the lights go out, it's a lot easier to trip, fall, and get seriously injured. It feels like we forget the layout of our entire home when the lights go out because we're so used to it being illuminated.
A whole-house generator helps prevent this major hazard. Even if it takes around a minute to kick in, you can stay still in the meantime, wait for the lights to come on, and completely avoid injuries.
Minimal Disruption to Your Quality of Life
When the grid goes down, you'll have a short, noticeable bit of darkness before your generator kicks on and supplies enough power to your entire home. That short wait is all you have to endure, then you're back in action.
Whether it's to keep the entertainment going throughout heavy storms or just for the peace of mind of knowing your home is A-okay, having your lights turn right back on is a fantastic feeling. Stress is a physical reaction in the body, but when you have this level of relief, you have nothing to worry about.
No Need to Stress About Home Medical Equipment
If you have someone living with you who relies on home oxygen or other medical equipment, you don't have to worry about emergencies or rushing them to a hospital to be hooked up to the right machine.
Your home generator takes care of all that stress. If you have friends or family who rely on home equipment, you can bring them over before a storm rolls through and use your home to help keep them safe.
Don't Stress About the Next Storm
When the next storm hits and the power goes out, you can be back online with full electricity in 60 seconds or less. Your whole house generator is a failsafe through rough storms, thick and thin, and that peace of mind is worth its weight in gold. Let's help you get set up with a whole-house generator as soon as possible.
Contact Air Supreme Heating and Air Conditioning for a whole-house generator installation. Your HVAC experts in Flatwoods, KY