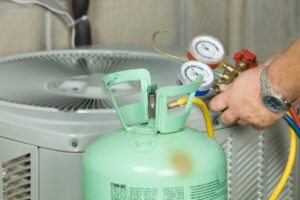 Do you know what refrigerant is? If you aren't familiar with this substance, we want to give you some details on what it is used for in your central AC or heat pump.
Refrigerant is the substance that allows your air conditioner to produce cool air. Without it, your AC is really just a big fan system. And while whole homes fans are helpful, they won't offer the comfort that a properly working AC does.
You want your AC to work the way it is supposed to–by creating cool air. To do that it needs refrigerant. And if you have a refrigerant leak, it is going to be a problem that needs to be addressed quickly before it costs you.