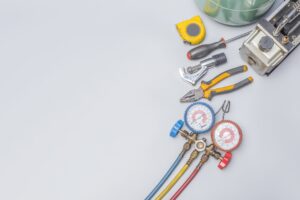 Your air conditioner is the hero of your home. It sucks out humidity, cools the air, traps dust in the air intake filter, and makes life bearable.
You don't want it to break down on you, but how do you know when you need air conditioner repair in Kentucky? If you wait until it kicks the bucket, you'll be left without air conditioning for quite a while.

Emergency calls are common in summer, but if you want to avoid all that noise and not be told "We're booked" when you call for repair, it's time to start listening to your AC now before it's too late. This is what you need to look (and listen) for.
There's a Water Leak Near Your AC Cabinet
If water pools on the outside of your air conditioning cabinet, that's a really bad sign. Pooling water can produce greater pressure on the concrete slab below the cabinet, or it could leak inside and cause damage to electrical components. It can even make it harder for your cabinet to drain.
You should have a drainage line or tube that brings water away from your air conditioner. If it's just letting it all pool up in one place, then you're in trouble.
Odd and Unsettling Sounds
Your air conditioner makes noises, right? But you can usually tell when it's an "I just started up, I'll get to work right away boss" noise vs. an "I haven't had my coffee yet" kind of noise.
Continuous, loud sounds that persist even after your AC initially cycles are a bad sign. You shouldn't jump at every noise your air conditioner makes, but after having it in your home for so long, its normal operational noises have blended into the background.
If you stop and think, "Why did the AC make that noise?" it's a sign that it's doing something abnormal. It broke the routine. Get it inspected and potentially repaired.
Constant Short Cycling
When your AC starts up, it goes through a cycle. This cycle includes the unit turning on and running for about 15-20 minutes. By that point, it satisfies the request from your thermostat, and your ideal temperature will have been reached. It won't stay that way, though, so the AC will turn on again a little later.
If your air conditioner turns on, then turns back off within a few minutes, it's only cycling for a short amount of time. Hence the name.
Short cycles won't produce the effects you want. Your home will still be insufficiently cooled during short cycles. It's a precursor that your AC isn't doing so well, and needs immediate repair.
Don't Wait Until it's Too Late
If your AC is the hero of your home, don't be its kryptonite. Look for the signs, make sure you're checking regularly, and call when it's clearly needed.
Don't delay until you're fanning yourself with a newspaper in the high 90s. Get ahead of the curve, and you'll stay in comfort all year long.
Contact Air Supreme Heating and Air Conditioning today to schedule AC repair before it's too late. Your HVAC experts in Flatwoods, KY