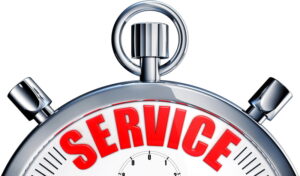 Are you excited by the idea of your air conditioner struggling to keep your home cool this summer? What about spending extra cash to keep your AC running even if it barely makes a dent in the indoor temperature?
Doesn't sound good, right? The truth is that homeowners around our area may very well be dealing with the issues we've described above come summer. What's worse: these are avoidable problems!
How can you avoid them? By scheduling your annual air conditioning maintenance appointment of course. Discover more about how and why maintenance is so important for your comfort this summer below.
What Is Air Conditioning Maintenance?
Contrary to what some may think, maintenance is not the same thing as repairs. In fact, this yearly air conditioning service in Ironton, OH can help to prevent repairs and keep them to a minimum.
Maintenance is a service that we advise homeowners to schedule each year for their air conditioner. This service is performed by a trained professional who will clean, adjust, and optimize your system. They can also alert you to any pending issues that may be coming in the future so you can be prepared instead of unpleasantly surprised by them.
Why Schedule AC Maintenance Each Year?
So, why bother with maintenance rather than just waiting for repairs to pop up? There are plenty of reasons. Here are some of the best perks of regular maintenance that you should know about:
Helps manage your energy use. An air conditioner that is well-maintained won't need to use extra energy, which keeps your overall usage at a normal level. That's good for you and the planet!
Optimizes your comfort. When your system isn't struggling with small issues like a clogged filter or loose parts, it is more effective. And that means it is keeping you perfectly comfortable.
Reduces repair needs. Yearly tune-ups are capable of catching and addressing problems before they escalate into repair needs. That saves you money and time.
Maximizes system lifespan. A neglected air conditioner might last a maximum of 10 years. A properly maintained AC is capable of lasting up to 15 years or more before needing to be replaced.
Lower operational costs. Fewer repairs plus lower energy use plus better comfort all add up to lower, more manageable operational costs for your AC.
As you can see, scheduling maintenance each year is well worth your time. And the sooner you get this service taken care of the better of you and your air conditioner will be.
We provide comprehensive air conditioning maintenance services that will ensure your AC performs as effectively and efficiently as possible this summer. If you are interested in added perks, you can always look into signing up for our Air Supreme Heating and Air Club too.
Let us help you stay cool and comfortable when it matters the most.
Contact the team at Air Supreme Heating and Air Conditioning for your next AC tune-up. We are proud to be Your HVAC experts in Flatwoods, KY.