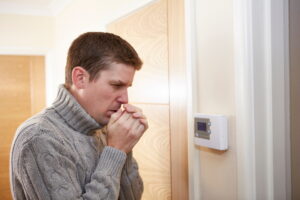 We still have a good long while until spring arrives and the weather starts to warm. Until that happens, the goal for most people in our area is going to be staying warm and comfortable indoors as much as possible. But what if your heater has other plans?
A heater that has been used heavily for multiple years may be on the verge of giving out this season. This isn't good news, we know. What is good news is that you can rely on our team to tackle your heater replacement in Hurricane, WV quickly and correctly.
Let's start with the warning signs you should know that will tell you when it is time to replace your system.
Your heater is between 10 to 15 years old or more
How old is your heating system? If you aren't sure how to answer that, see if you can check the date of manufacture on the system to find out. Knowing the age of your system is highly important. This is because it can alert you to the fact that you need to upgrade before you start to have trouble with your home comfort. Any heater between the age of 10 to 15 years old, or any heater older than 15 years old, should be replaced soon.
Your repair costs and operational costs are through the roof
You look at your energy bills are they are just getting higher each month, no matter what you do. This is an even bigger problem too since your repair costs have skyrocketed.
If the cost of your latest repair bills could pay for half of the price of a new system, it means you need an upgrade. This is a system that is costing too much to justify keeping it around anymore. While replacements are a bigger upfront investment, they will save you far more in the long run.
Repairs have become as frequent as maintenance services
Another indicator that you need to say goodbye to your current heater is that it needs repairs on a yearly or near-yearly basis. You should really only need to repair your heater once every few years–especially if you schedule maintenance regularly. If, however, you need repairs far too often, it is best to upgrade before your heater simply gives out.
Your heater refuses to function anymore
The goal of blog posts like this is to avoid letting your heater get to this stage. However, if you are already battling with a heater that refuses to produce warmth anymore, this is your sign that you should absolutely replace the system.
A heating system replacement can be a bit overwhelming to think about. It doesn't have to be stressful though. With the help of the experts on our team, you can get through this process without worry. From determining whether your heater truly needs replacing to get your new system installed promptly, you can trust us to get the job done.
Contact Air Supreme Heating and Air Conditioning to schedule an appointment. We are proud to be your HVAC experts in Flatwoods, KY