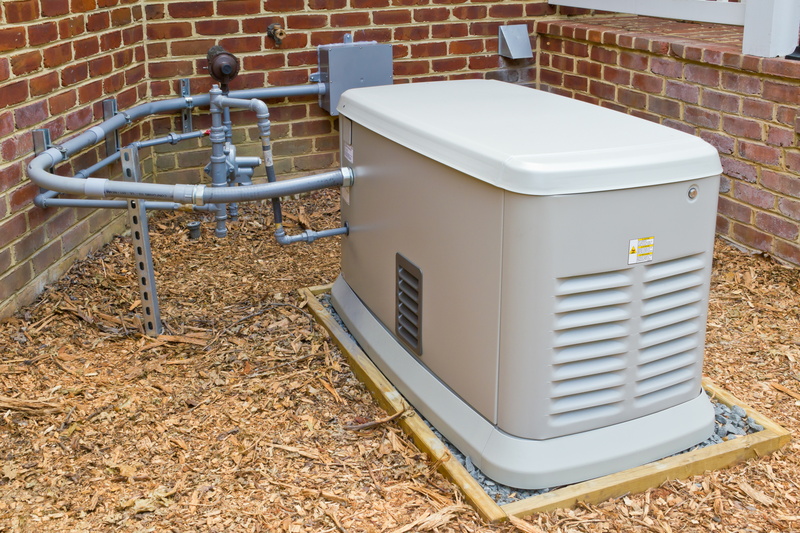 If you've been through a power surge that kicked out your home's electricity, you know that it can be a pretty big hassle. This is especially true during the summertime when that power outage can knock out your ability to cool your home. We can help you avoid this trouble though by telling you a bit about whole-house generators.
These systems are great for keeping your home running if the power goes out around Flatwoods. With the ability to keep your home running without really missing a beat, whole-house generators can be what makes the difference between your week continuing as normal and your regular life coming to a complete halt for days.
Portable or Whole-House Generators?
When we discuss generators some people might write it off as an unnecessary discussion because they already has a portable generator. While portable generators may work in a pinch they aren't going to offer as much help as you may think.
These systems are powered by gasoline or propane and have to be powered-up manually. What's more, they are only able to offer enough power for the absolute basics such as keeping the lights on. However, when you are having to dig up your portable system in the dark and trying to fill it with gas which can push fumes into your house, alternatives may sound a little more pleasant.
What Makes Whole-House Generators Different?
A whole-house generator is going to offer benefits that a portable system just can't offer. See, a whole-house generator is going to be connected to your home which allows it to provide several benefits to your home including:
They work automatically: When the power goes out a whole-house generator is going to get to work automatically because it is connected to your home's power grid and can sense an outage.
They use natural gas instead of gasoline or propane: Whole-house generators are connected to your natural gas line and combined with a built-in battery they are able to create power even when there is a power outage.
They keep your home system's running: Your home is going to be able to keep running without skipping a beat thanks to a whole-house generator. This means you won't have to worry about being without your air conditioner (especially concerning if you have little ones or elders in the house during a heatwave) or losing all the food in the fridge!
Professional Installation is a Call Away
If you are interested in adding a whole-house generator to your home to help keep things running when the power goes out, you want to make sure the installation is done right. This is especially important since these systems are connected to your natural gas line–trust us when we may a wonky gas line connection is very dangerous.
When you need professional installation services for a whole-house generator you can turn to the technicians at Air Supreme Heating and Air Conditioning.
Your HVAC experts in Flatwoods, KY. Contact Air Supreme Heating and Air Conditioning to schedule your whole-house generator installation or other services.