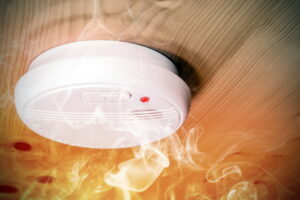 Whether you have a family to protect or you are living on your own, there are plenty of safety measures that every home should include. From fire extinguishers to automatic shut-off valves on your water line, these items are meant to protect your home and its inhabitants from all sorts of danger. Your smoke and carbon monoxide detectors are another vital safety measure that you need to have ready in your home.
If you've noticed that one or more of the detectors in your home is acting up, it may be worth it to reach out to an electrician in Barboursville, WV. Not sure why? We can help answer any questions you have about checking on and servicing your smoke or CO detector so you can stay safe.
The Importance of a Working CO Detector
Carbon Monoxide detectors (CO detectors) are extremely important to keeping your home and loved ones safe. Why? Because it can alert you to the presence of CO in your home. Trust us when we say that CO is not a substance you want in your home. It can lead to major health problems and be a serious danger to the wellbeing of anyone in the house. These detectors are vital to any home with a a gas-burning appliance like a stove, water heater, or furnace.
Indicators That Your CO Detector Needs Some Attention
We've all been there. It could be the middle of the night or the middle of the day and you are jarred by a loud, piercing beep. Oh no, it's the carbon monoxide detector. Chances are that it needs batteries again…but how can you be sure?
If there is a problem with your CO detector you will want to reach out for help sooner than later. Here are some tips to help you troubleshoot what might be going on with your detector and determine if you need some extra help getting yours back into shape.
Perform a test. Whether your CO detector has been making noises or not, you will want to do a test every once in a while to make sure that it is responsive. It is recommended that you perform a test of your detectors at least once each month.
Check on batteries. Even if you have a CO detector that is hardwired into your home's electrical system, it will probably need batteries, even if only as a back-up. Make sure to check on the batteries in your CO detector when you test it.
Keep it clean. Keeping your CO detector clean is important too. Make sure to clear away any dust or spiderwebs that could mess with the sensors responsible for warning you when something is wrong.
If you've done all of these troubleshooting measures and your CO detector still isn't working right, it can be a good idea to reach out for professional service. Our professional electricians can help you determine what is wrong with your detector and get a solution in place.
When you need help with an electrical system in your home, contact Air Supreme Heating and Air Conditioning. Your HVAC experts in Flatwoods, KY.