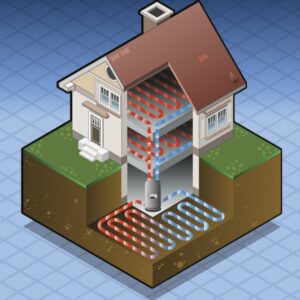 Geothermal systems come with a lot of great benefits that you can enjoy, including reliable home comfort and a long lifespan for several system components. While their unique set-up does help them enjoy longer service lives, it doesn't mean that they will never encounter trouble.
If you are searching for a "geothermal repair near me" then you are in the right place for some answers and assistance. Even these highly efficient home comfort systems can run into some roadblocks over the years. Thankfully, our team is here to help get things running right again.
Indicators That You Need Repairs for Your Geothermal System
Let's look at some of the most common indicators that you might encounter that will alert you to when something is wrong with your geothermal heating and cooling system.
Reduced comfort: This is going one of the easiest but least desirable ways to tell something is wrong with your comfort system. If your geothermal unit isn't able to do its job correctly, leaving you too hot in summer or too cold in winter, then there is likely a problem that needs to be addressed.
High energy bills: Have you noticed that your energy bills have started to get far more expensive than usual? A large leap of $100 between one month and the other isn't normal. Expensive energy bills can be a strong indicator that something is hindering your system's ability to get its job done.
Short cycling: Your system turns on and starts the process of creating cool air for the home—only to turn off after a few brief minutes. This is known as short cycling. It is both a sign of trouble in the system and a cause of additional issues. If your geothermal HVAC system has started to short cycle, you need to schedule repairs quickly.
Weakened airflow: Let's say that your system is running and you can feel that it is producing cool air. The problem may lie in the fact that not enough of that temperature controlled airflow actually makes it into the rooms in your home. Weakened airflow has many causes, but the ultimate takeaway from noticing this issue should be calling for system repairs.
Concerning noises: Has your geothermal system gotten noisier than usual? If so, we'd say it is a good idea to pay attention to those sounds and tell your technician what you are hearing. Noises like rattling, screeching, banging, hissing, and more can all indicate different repair needs.
Get Your Geothermal System Working Right Again
If you notice any of the indicators that we've listed here, then it means it is time to click or call to get in touch with a technician. The experts on our team are trained and experienced in handling geothermal units and can help you regain the use of your system in a timely manner.
Your HVAC experts in Flatwoods, KY are here to help with your geothermal system needs. Contact the experts at Air Supreme Heating and Air Conditioning to schedule an appointment.