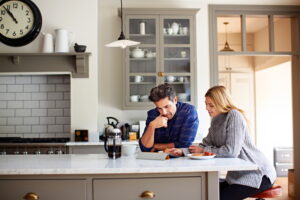 You've probably heard the term "smart home" before now but maybe you aren't sure exactly what it refers to. No, your home can't wake up one day and start learning to talk or anything like that. Having a smart home refers to having a home that is equipped with your ideal choices of automated appliances to optimize your day-to-day life.
It might sound like something from The Jetson's but its real. You can have devices installed into your home's electrical systems to enjoy a better, smarter home life with better temperature control, voice-activated adjustments, and more.
Ready to start creating your dream smart home? With an electrician in Ashland, KY to make sure the job gets done right.
The Scope of Your Smart Home Options
There are a lot of options available to you when it comes to automating your home. You can opt for one of these, all them, or just a few of them. Ultimately the choice is yours! Here are some systems you may want to upgrade to be automatic:
Lighting: Remember when clap-on clap-off lights were the rage? Well, now you can enjoy an even better option with smart lighting. Control it with your phone or set it up to be controlled with a voice command. We provide smart lighting options as part of our home automation services.
Locks: You'll never have to worry about forgetting to lock your doors again. I made box are able to be activated from your phone and can even be checked while you're on vacation.
Television: Want to watch a movie but your hands are full. Not to worry you can always activate things with voice commands because you can choose to upgrade to a smart TV. With a system like this, you'll never have to worry about losing the remote again.
Thermostat: The smart thermostat can be adjusted and controlled remotely as well. The added benefit of these systems as they have better accuracy when detecting temperature and can even offer the ability to create programs to optimize your comfort and keep your energy use as low as possible.
Security cameras: Going on vacation and worried about keeping your home safe? When you have a smart security camera you won't have to worry at all. Smart home cameras give you a great view of what's going on at home even when you are away and can allow you to call the authorities if something is awry.
Blinds: Yes even your blinds can be automated! Set up a program to raise or lower your blinds at certain times of the day to optimize the use of early morning sunlight to wake you up but keep out the high heat of the day in the afternoon.
The possibilities are almost endless when it comes to automating your home. We can help with your smart thermostat and smart lighting needs to give you a great head start on the creation of your ideal smart home.
Your HVAC experts in Flatwoods, KY are here to help. Contact Air Supreme Heating and Air Conditioning to schedule an appointment.