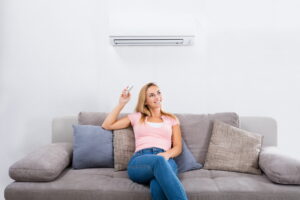 It is hard to stay cool on certain days in our part of the state. High heat and humidity can seem impossible to fight back against. You need a powerful and effective air conditioner to stand a chance of keeping your home comfortable when the worst of the summer heat hits. If you don't have ductwork though this can seem impossible.
We are glad to say this isn't the case. If you need a good AC unit, it may be a good time to consider a ductless air conditioner for your home. We can provide the air conditioning installation in Ashland, KY for this system. Let's discover whether or not this is the best system option for your home.
How Ductless AC Units Work
Wondering how a ductless system works? We are happy to give you a quick breakdown. We promise that this system isn't too good to be true!
Ductless units are a type of heat pump that doesn't require ductwork. Instead, ductless units connect multiple air handlers to an outdoor unit with a condensate and refrigerant line. This allows your ductless units to be set up to operate in multiple rooms and offer great comfort without the hassle of installing or keeping up ducts.
Is a Ductless System Right For You?
So, while ductless systems are a great option, are they the best option for your home? Here are some of the factors that can help you determine if they are:
They take up less space: Looking to reclaim some square footage around the house? A ductless unit can help with that. Ductless systems can use different types of air handlers, such as a ceiling cassette or wall unit, to help you get the most from your space too.
They don't require ductwork: If you don't have ducts, or have a home that is too old or small to accommodate ductwork, a ductless unit is going to be a great fit. Even if you have ducts and simply don't want to use them anymore, you can still switch to a ductless option.
They both heat and cool your home: Looking for year-round comfort? A ductless system has the ability to offer you that! This is because ductless systems can reverse their flow of refrigerant allowing them to either pull heat out or pull it in.
They are extremely energy efficient: Ductless units are also incredibly energy efficient. They do a great job at providing reliable comfort without using excessive amounts of energy. This means they will help pay for themselves in savings in a shorter amount of time.
It makes a big difference to have a great air conditioning system in your home during summer. That starts with the selection and professional installation of the best system for your needs. If you need help with choosing your next AC or getting it installed, you can rely on us to get the job done right.
Contact the professionals at Air Supreme Heating and Air Conditioning to get started. Your HVAC experts in Flatwoods, KY are here to help you keep cool.