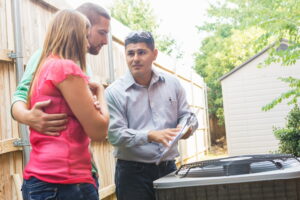 The HVAC company you choose for your ongoing service isn't a light decision. Ideally, you want to pick a company and that's it–you just work with them now because you know you're getting great service and pricing.
Put in the time to find a superior HVAC company now, and you won't be punching in "HVAC near me" into the search bar ever again. This is how you can make sure you find the best HVAC company that fits your needs.
Ask Them These Questions
Any HVAC company that wants to work with you should be able to answer the following questions at the very least.
How many years have you been in business? Newer HVAC companies come and go. They may not be around unless they can establish a track record, and that's exactly what you want. A business that's been around for more than a few months (at the very least) has a proven process and results. Otherwise, they wouldn't still be in business.
Are your technicians properly certified? Ask for certification. Businesses can make their own certifications and then make their technicians "triple certified" if they want to. The type of certification matters; don't be afraid to ask about them.
Are your services insured? Are technicians insured? If your AC is fixed, then it breaks down again the next day, someone made a mistake or underestimated the issue. Your HVAC company should be willing and able to come out to remedy the situation. Furthermore, you don't want uninsured people on your property handling electrical wiring, fast-moving metal fan blades, and dangerous chemicals like refrigerants.
Do you have financing options? Many of us don't have the ability to save a little bit at a time and fully fund an air conditioner replacement in the middle of July. Financing options help give you flexibility when you need it most.
Do you offer guarantees? HVAC contractors are fixers–there's a level of guarantee you should expect, and sometimes that's in writing so you know who to call in the event that something happens or doesn't work as intended.
Can I save money with a maintenance plan? Many HVAC companies offer maintenance plans. They're charged monthly or annually, and offer discounts on labor, parts, and more. Each maintenance program is the same, but if it can save you money now, then why not sign up for it?
Word-of-Mouth Recommendation
One of the most powerful ways to verify if something is a good idea, or if a purchase makes sense, is to ask someone you trust about the same process.
Ask your friends, family, and neighbors for recommendations. You'll get unbiased experiences so you can know what to expect. A good HVAC company brings results that make homeowners happy; that's what you should be able to expect.
We're Ready to Get Started
You're already in the presence of an excellent HVAC company who knows how to treat every one of our customer's problems and address their concerns. Call us now to schedule your AC services.
Contact Air Supreme Heating and Air Conditioning today to schedule your air conditioner services as soon as possible.